First tweet: 
https://twitter.com/AndyRowell/status/1299415158322855944
Last tweet: 
https://twitter.com/AndyRowell/status/1299787151115132928
Whole thread: 
https://threadreaderapp.com/thread/1299787151115132928.html
PDF of thread: 
Download Eric Metaxas punching a man on a bike
Thread pasted below: 
This certainly seems like radio host Eric Metaxas punching an anti-Trump protester on his bike. It is what Eric was wearing and a woman cries out in alarm: "Eric!"

John Fea:


and better video at
Warren Throckmorton:
May:

Eric Metaxas and Franklin Graham posing with Metaxas's children's books supporting Donald Trump:

Meme

Think Salem Media will fire Eric Metaxas? Very unlikely. They're pro-Trump.







I'd forgotten that Eric Metaxas is a senior fellow at the Falkirk Center.

The guy who got hit says from 38:43-39:20 the Secret Service handcuffed him but then let him go after a bystander showed the Secret Service video footage of what happened.
instagram.com/p/CEbKqhoJ2_u/
Thread of David Frum tweeting in the past not to punch people when Richard Spencer and Jacob Wohl were hit.

The EricMetaxasShow Twitter account retweeted photos of the victim so I'll take that as a final confirmation that Eric punched him. (The victim said afterward on Instagram that the Secret Service let him go after bystanders showed them footage of what happened).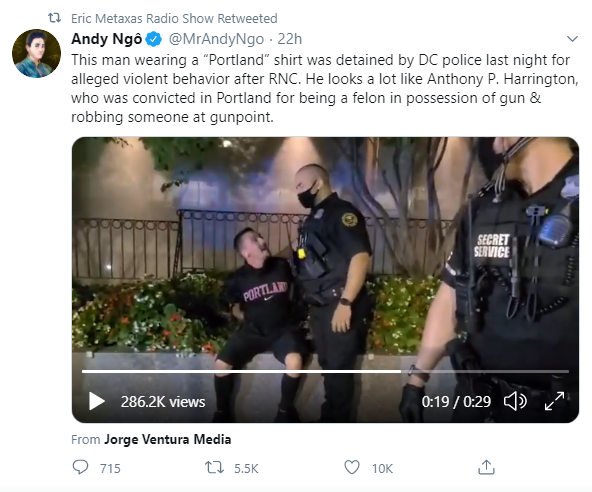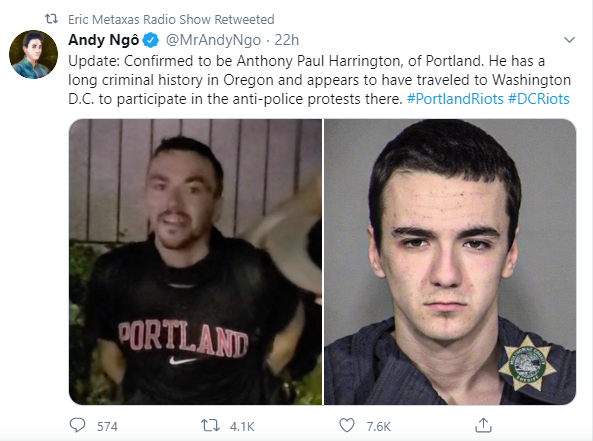 • • •